REPTILE BOARDING - WITH PICK UP / DROP OFF SERVICE
Reptile Boarding
For those that will be away for extended periods of time, we do offer some boarding in the store for our reptilian clients. Your pet must be in good health and condition prior to boarding. Space is limited so please call well in advance to book your space!
We will maintain the proper environment while you are away, carefully monitoring temperatures and humidity levels based on the species. We will provide all the dietary needs for your pet unless it has a special diet which you provide.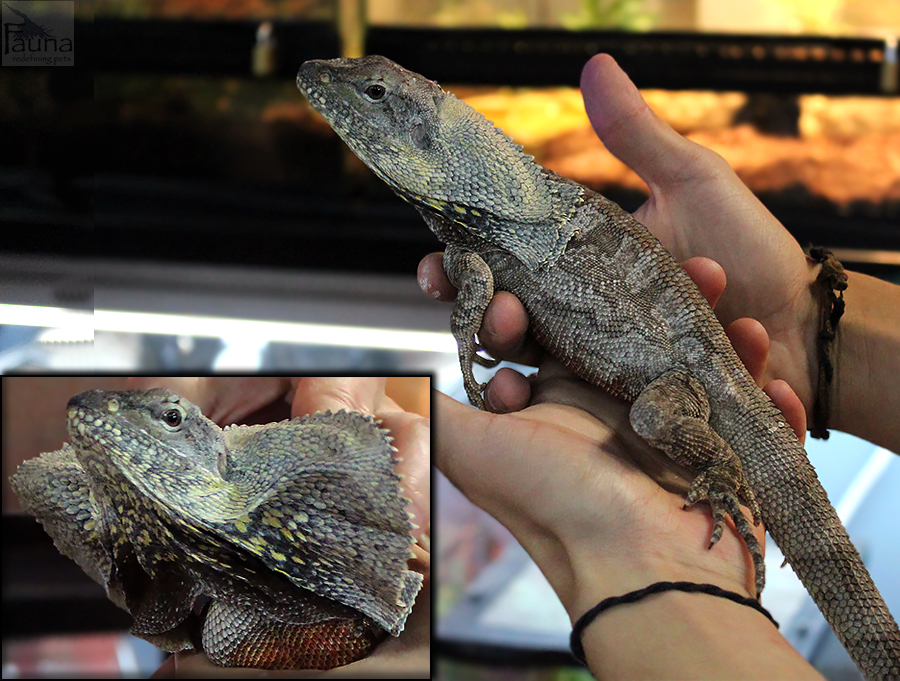 RATES (calculated by day)
Small Reptiles (less than 101g): $17
Medium Reptiles (101g – 500g): $22
Large Reptiles (greater than 500g): $27
There is a minor surcharge for holiday stay.
Australian Frilled Dragon
We have a variety of reptilian species that board with us here at Fauna. Recently we had the unique opportunity to have stay with us this AUSTRALIAN FRILLED DRAGON. This species is really fascinating with its large frill around it neck. When these animals display their characteristic frill most of us have flashbacks of the misrepresented 'Dilophosaurus' in Jurassic Park. While they are not venom spitting dinosaurs, Frilled Dragons do grow to be a little too large for most apartment dwellers, and are typically quite skittish and difficult to handle. This particular dragon was handled with great care by his owner while he was young and is very tolerant of being handled and actually seems to enjoy the contact. We don't normally recommend Frilled Dragons as pets because they are so skittish. We applaud this owner for taking so much time to work with his pet!