---
Pet Sitting
Home Visits in lieu of boarding can be safer and less stressful for your pet than boarding at a facility.
Going away for a quick weekend trip or a long vacation?  Then come meet any or all of our knowledgeable staff members who do regular home care for your pets while you enjoy your vacation.
Have peace of mind knowing your pet will be comfortable while being cared for in its own environment and not in an unfamiliar place. And while you're away, let your pet have some spa treatment too with wing, beak and nail grooming.
---
Reptile Boarding
For those that will be away for extended periods of time we do offer some boarding in the store for our reptilian clients. Your pet must be in good health and condition prior to boarding. Space is limited so please call well in advance to book your space!
We will maintain the proper environment while you are away, carefully monitoring temperatures and humidity levels based on the species. We will provide all the dietary needs for your pet unless it has a special diet which you provide.
---
In Home Grooming (birds & reptiles)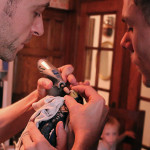 Do you have wings, nails or beaks growing out of control? Don't stress your pet by taking it to be groomed when we can get it into shape in minutes right at your home. Before you know it your pet is back to normal with minimal stress. No exposure to other animals that could potentially bring illness to your loved one. Let the experienced staff at Fauna take the bite out of your pets grooming!
Learn More >
---
Avian DNA Sexing
Been wondering if Rosie is a Rocky? Guess no more, DNA sexing is easy, safe and reliable. The staff members at Fauna can come to your home, collect a sample and within days we'll send you a certificate from the lab letting you know whether you should paint the room pink or blue
Knowing the sex of your bird can be extremely helpful in dealing with specific behavior and health issues. The more you know, the better prepared you are for the future!
---
Avian Behavioral Consultation
Have a problem bird? Considering re-homing because of screaming or biting? Far too often birds are re-homed or placed into shelters because of false expectations and a lack of information and support prior to adoption or purchase. We understand the frustration and heartbreak that can occur when a situation goes seemingly out of control and you feel that you have no options. There are however, steps that can be taken to prevent or eliminate many of these problem behaviors.
With Fauna's 'At Home Behavioral Consultations' we will observe your bird's interaction with your family and it's environment, then carefully develop a plan of realistic expectations and behavioral modification techniques custom for your situation. Not every bird is the same and each species has particular characteristics that are innate behaviors that can manifest into perceived problems in your home. Let our years of experience help you find peace again with your feathered friend.
---
Aquarium, Terrarium and Vivarium Set Up & Maintenance
They say that aquariums are relaxing and stress reducing. Have you dreamed of having that impressive aquarium, but never known where to start? Is water chemistry leaving you stressed and wishing that you had paid closer attention at school? Let us handle the stress.
At Fauna we can design, set up and perform regular maintenance and emergency service for that dream aquarium for you while you relax. After all, isn't that what an aquarium is for?
---
Small Mammals
At Fauna, we believe that adoption is the best route if you are looking for a small mammal as a companion. We can often help you locate that little fuzzy that you have been searching for. Since most small mammals are nocturnal, it can be very stressful to the animal to be living in a store location where bright lights are on for long hours of the day with hundreds of people walking around. This is why adoption can be a better solution for a healthier small mammal. Ask our sales representatives for alternative locations for adoption.
While we do not carry actual small mammals in the store we do have the best supplies available for their care including:
Oxbow products (hay, pelleted diets and treats)
Carefresh Bedding
Freshworld Bedding
Cages and accessories
Toys and Treats